Of course Los Angeles is known for its endless supply of restaurants, diners, food trucks and dive bars but just because a restaurant has a widely known brand name doesn't mean that we should overlook it. This week I was invited to sample the menu at The Hard Rock Cafe Hollywood, located at 6801 Hollywood Boulevard, nestled right in the midst of all of the Hollywood Boulevard hoopla.
You might miss it as you walk by, your eyes glued to the ground, amazed by the stars of the Hollywood Walk of Fame, but I kid you not, if you take a moment to explore one of America's favorite brands, you will feel as though you've truly had a Hollywood experience.
The Hard Rock Cafe in Hollywood is open year round and actually only closed during the filming of The Oscars. Inside you'll find a merchandise store, cool memorabilia lining the walls and smiling faces greeting you. Head a little further back into the establishment and the place opens up like a secret hide away, leading into the main dining room complete with a stage.
I'll be honest, you won't want to go to the Hard Rock in Hollywood for the main fare, most diners there were nibbling on burgers and steaks, which I found to be- ehh- but if you really want to treat yourself, and I mean REALLY want to smile and laugh and feel grand, grab a group of friends, sit at the top level near the bar overlooking the dining room, order a bunch of appetizers and drinks and people watch until your hearts content.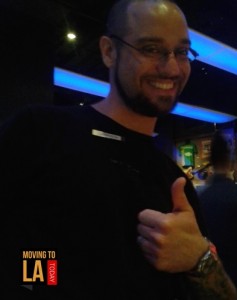 Jameson- The Hard Rock Waiter with the Secret To Eternal Youth
The first person you'll want to ask for is Jameson the waiter, an LA Transplant from Hartford, Connecticut, he moved to LA in 1999 for the sole purpose of having fun. A typical smooth talker with an angelic face, Jameson will tell you how his Asian wife offered him the secret to long lasting youth in the form of skin cream.
Next you'll want to notice the bartender. Pixie-like and adorable, she sports fangs as she delivers your drinks. Second to the pleasure of seeing her, you'll be mesmerized by the biggest appetizer sampler on the menu. You know what? I'll share my favorite dishes and cross my fingers that you won't hack my website just to get a closer look.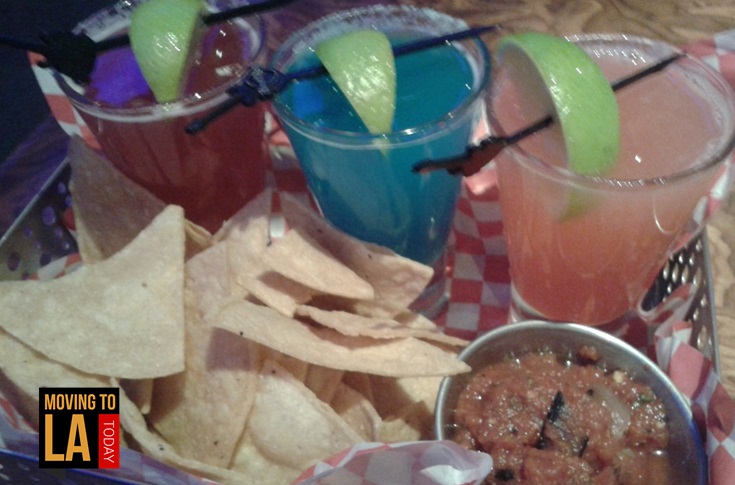 Start your meal off like we did with the Air Mexico. You can mix and match 3 different flavors of margaritas, (I highly recommend the blue curacao) and are accompanied by fresh chips and salsa.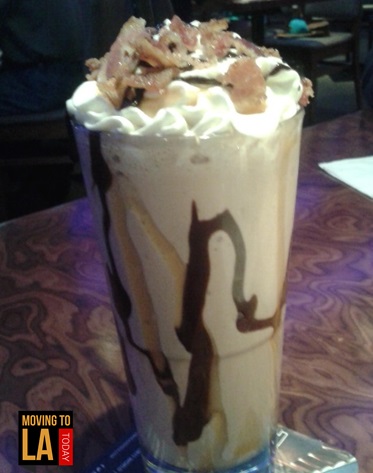 Have you made it to the gym with no excuses for the entire month? Great job! Go ahead and be bad and order the Twist & Shout Milkshake. Mixed with vanilla icecream, Bacardi Spiced Rum, Guinness, chocolate & caramel and topped with whipped cream and BACON pieces, you won't remember what you were thinking about after you take your first sip and- according to Jameson, it's only 20 calories. Yeah, right.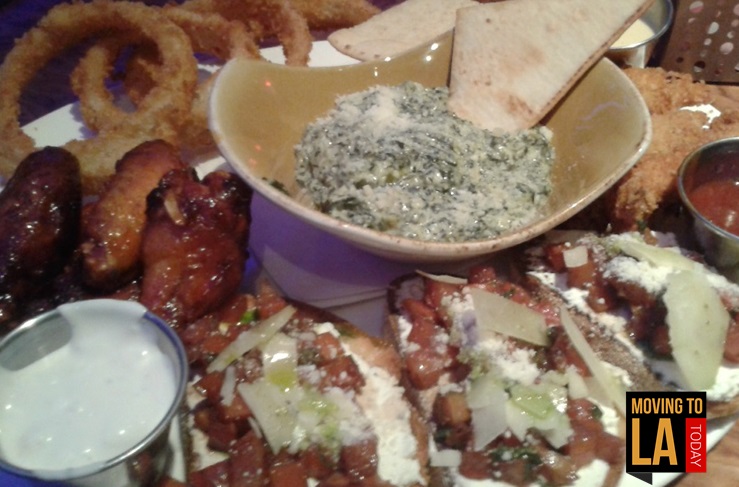 The Jumbo Combo is what I ordered next and what a combo it turned out to be. Can you imagine having an orgasm without using your hands? Well, that was what eating this mega appetizer was like. Scrumptious barbeque wings, freshly fried onion rings, crisp chips coupled with an amazing spinach dip, beautifully fried chicken fingers and to top it all off, eating the balsamic BRUSCHETTA was like getting a lingering goodnight kiss from Brad Pitt, you 'll want to savor the taste on your tongue. I almost called it a night after sampling this appetizer sampler; it really was a feast on its own.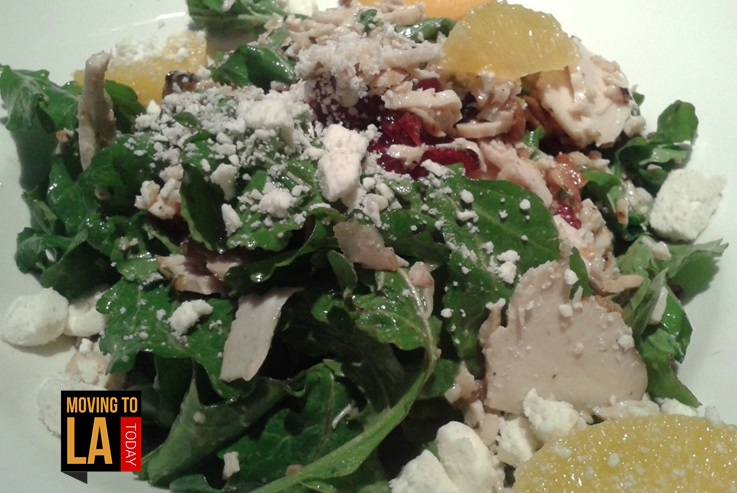 Yes, I'm a bad girl. But who is really judging me. I ate that monster appetizer and then ordered the Grilled Chicken Arugula Salad. I am so glad I did! If the Balsamic Bruschetta was like a lingering kiss from Brad Pitt, the Arugula Salad was like a lingering hand job. Whoever made this salad must have peeked out from the kitchen and fallen in love with me because I could tell they put a little extra love in this salad. Mixed with baby arugula, thinly sliced grilled chicken, pecans, dried cranberries and fresh oranges, tossed in balsamic vinaigrette and topped with crumbled feta cheese- GOOD LORD- I can't come up with anything witty to say except- May I have a cigarette, that was awesome?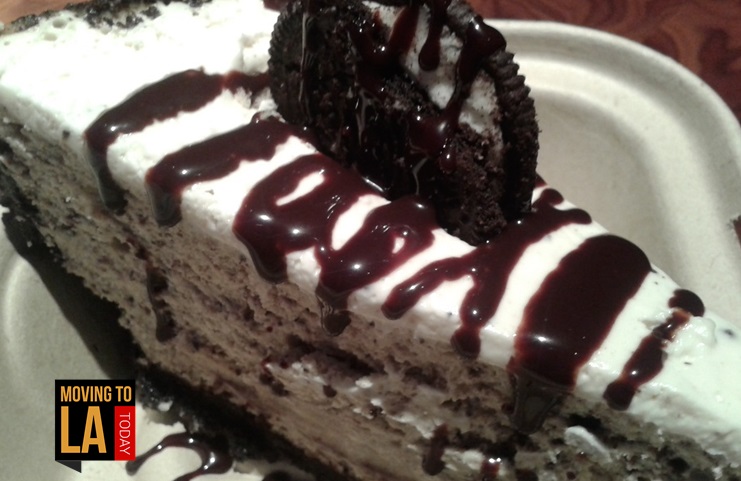 Since I'm being invited to sample the menu, I can't leave without having desert. I was much too full to eat the entire thing but my choice was the Oreo Cheesecake. I took one bite and felt depressed because I have this habit of grieving things before they end. Weird, I know. It's a good choice, one you should make as well.
In fact, take all of your friends to the Hard Rock in Hollywood to celebrate or just veg out from the craziness of life. Crazy, fun, relaxation in an environment that is appealing to the eyes and stimulating to the mind, you should experience the Hard Rock vibe among the stars; you won't regret it.