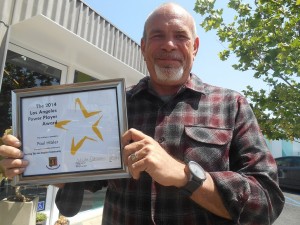 Paul Hibler – Culinary Visionary
Paul Hibler's last name should be 'Cocina' since he's been cooking up a big, steamy pot of success since he was 13 years old.  He now owns 11 restaurants in Los Angeles County, building upon his success and expanding his empire with each passing year. His first successful business venture was a motion picture catering company called Deluxe Catering whose aim was to deliver high quality dishes instead of the standard pedestrian cafeteria food. Gaining international acclaim with this venture, Paul's company catered blockbuster film productions like Titanic, Men in Black, Godzilla and What Dreams May Come.
Setting an even higher mark for his business, he delved into creating a fast-casual concept and founded Pitfire Artisan Pizza. In case you haven't heard of it, once you move to Los Angeles you will because they now have 8 local locations. Paul creates a home for his restaurants in each neighborhood they are placed in, establishing them as the neighborhood living room; a place to relax and celebrate with family and friends.
Paul has made Los Angeles his home and has relentlessly tilled this fertile ground until every season yields a crop of happy customers. He says he enjoys living in Los Angeles because of its progressive nature.
"Los Angeles represents the eternal American frontier where anything is possible and most likely happening now," Paul shares. "On first glance L.A. is kind of a sprawling dysfunctional mess, but if you stop for a moment and take a look you will see fantastic, forward facing architecture and design.  We have the best farmers markets and food supply in the country."
Paul's favorite Los Angeles activity? He is fond of taking his family for a walk on Venice Boardwalk on New Year's day.
"It's a total mash up of the local 'Oliver Twist' hustlers, people from all over the world wearing bad t-shirts and nice, abnormal people like me," he jokes.
Paul has created a variety of opportunities for himself in Los Angeles and he offers that there is one quality that will push you forward; focus.
"Opportunities are everywhere," Paul shares. "The thing I've noticed about people who succeed in coming to LA is they all seem to share a common quality.  FOCUS.  It's crucial that you arrive with a laser focus on where you want to get to.  Otherwise, the weather and the lifestyle can put you to sleep."