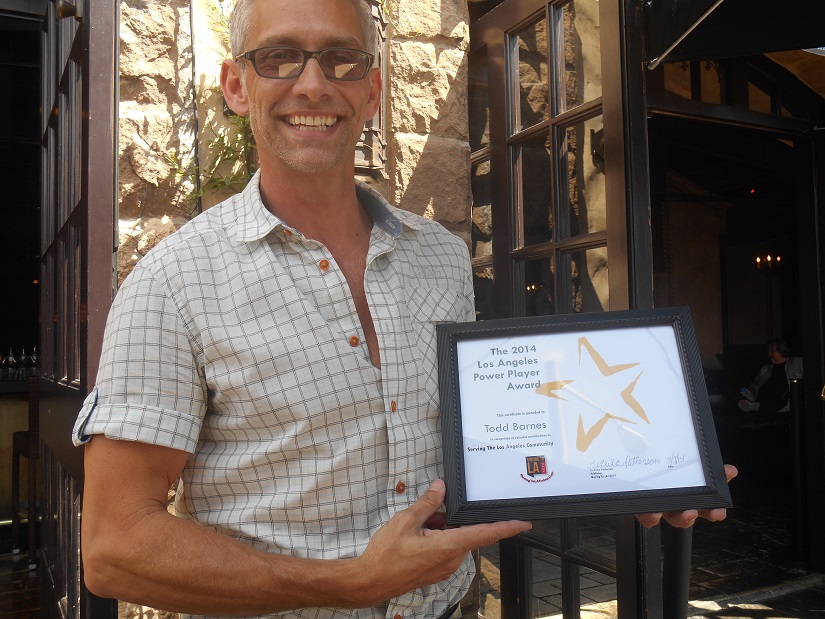 Todd Barnes, General Manager of The Abbey – Los Angeles Power Player
Todd Barnes is the General Manager at The Abbey, the uncontested hub of the gay community in Los Angeles County. Although Todd isn't a Los Angeles native, he has created a home for himself by being the front man for the trendy restaurant and bar located at 692 N Robertson Blvd in West Hollywood. The Abbey serves as a must-visit ticket item during every trip to Los Angeles, boasting a roster of clientele that would outshine all of the stars on the Hollywood Walk of Fame.
"You'll always meet somebody new—you'll never meet the same person twice and there's someone new to meet every night," Todd offers.
The little blonde boy with the coy smile had no idea he would grow up to become a Los Angeles Power Player after moving from Minnesota to attend USC. He left USC with a degree in communications and then allowed his good looks to carry him overseas and beyond as a male model for nearly a decade. Exhausted from enchanting everyone he met from sea to shining sea, Todd returned to Los Angeles to use all of the skills gleaned from traveling the world to dive into the high end hospitality industry.
His charm, good looks and most importantly, his ability to direct others and make effective decisions landed him in a key role managing The Abbey where he has been since 2001, leaving briefly for a fling with another restaurant before returning home to The Abbey and the crowd that groomed him to become the efficient business professional he is today.
Jumping into the mix after moving to Los Angeles is quite simple but developing the skill set to stay in Los Angeles isn't as easy. For those who dream of making Los Angeles their home Todd advises having 6 months to a year of savings before you make your leap.
"I think because Los Angeles is such a desirable destination there are so many people coming to town everyday looking for jobs and a place to work," Todd shares. "There are way more people looking for work than there are jobs. Definitely save up for a few months for rent so you don't have to worry about running out of money."