NAME: Lucy Treadway
AGE: 32
RESTING IN: West Hollywood
WORKING ON: Producing a new series called Kart Life broadcast on truTV and her 3rd season of Welcome to Myrtle Manor will begin airing on TLC on February 26th.
B
efore moving to Los Angeles, Lucy Treadway made the rounds in New York City, hustling running around Manhattan for auditions, filming projects, taking acting classes and voice lessons. She spent most of her time falling in love, experiencing heartbreak and creating ways to pay rent.
After a failed relationship in New York Lucy finally had the push she needed to take her chances in Los Angeles. She sublet her East Village apartment and boarded a plane to L.A. although she had never been to L.A. before. With her she brought high hopes, a hustler mentality and two suitcases of clothes.
Just one week after moving to L.A. from New York in 2004, Lucy Treadway had one of her most memorable experiences.  She was invited to a 'Red Carpet Party' and was told that Ashton Kutcher and other celebrities would be there.
"My friend and I walked this "red carpet" in the worst outfit ever and it turns out it was a party celebrating Andy Dick and his show on MTV," she remembers. "I met a bunch of crazy characters that night, Andy Dick of course, Rodney Bingenheimer and others including my next boyfriend."
After the party at the club Andy Dick invited Lucy and her friend to come to the after-hours party at his house.  At the house she recognized some of the guests from TV and eventually found herself chatting up a stranger after he asked about her move to L.A.
"I could tell by the way people were treating him that he was a celebrity but I didn't know who he was," she says. "The next day I call my mom and ask her if she knows who Rick James is. Yes it was Rick James himself talking to me and a week later I was driving on the 101 Freeway and heard it announced on the radio that Rick James had died of a heart attack. Literally one week after I met him he was gone."
But that wouldn't be the last celebrity that would make an impression on the aspiring producer. Making the rounds of the L.A. club scene, Lucy would frequently run into a woman with a body that made her and everyone around her stare. The woman could be spotted tagging along with Paris Hilton, wearing a skin tight dress that showed off her impressive curves. Even with her bold curves and beauty, the young vixen couldn't catch a break. Lucy says she often saw her being held outside of clubs like Le Deux until Paris Hilton arrived. A year later, the same woman with the out of this world body began starring in her own reality show and she was never denied access again.
Who was the young bombshell? None other than Kim Kardashian.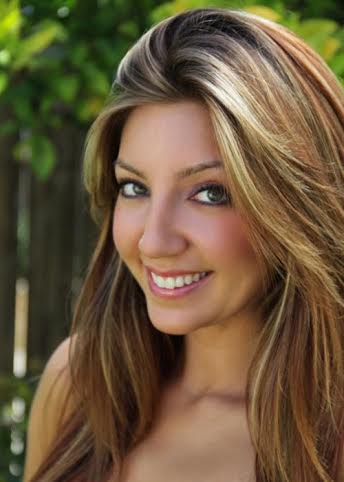 Lucy Treadway Los Angeles Producer
Lucy now lives across from The Grove at the Pallazo which is close to West Hollywood and Beverly Hills with boyfriend/baby daddy. She remains best friends with the people she met when she first moved to L.A. nearly 11 years ago. Her professional life has progressed after many years of the hustle; working her buns off creating content, meeting the right people, and calling/emailing all networks building her name and relationships by not taking no for answer.
"Anyone who has ever helped my career came from someone I met while working at that first job at the Whiskey Blue Lounge," Lucy shares. "I can literally trace every single person back to that, even in my real estate days. While auditioning, creating/writing/filming my own projects, pushing people to look at my projects all while keeping my integrity by never once accepting any indecent proposal that came my way, I was working, sometimes 5 jobs at a time to pay my rent."
And oh what a hustler Lucy proved herself to be. At one point she was a nanny for two different families, working as a personal assistant for two people, doing bottle service 1-2 nights a week, and working as a real estate agent with two commercial properties.
"It has taken me YEARS to build these relationships the right way meaning no shady business or hanky panky going on," Lucy says.
Lucy says she became obsessed with her projects and with the help of her manager, Tiffany Smith, she knocked down enough doors to finally get some things going. By the time she sold her first show "Welcome To Myrtle Manor" she had over 27 projects that she had created. Inspired by Jay Z's Off That lyrics, Lucy says her mantra was- I practice two a days so I don't drop the ball when it's thrown my way.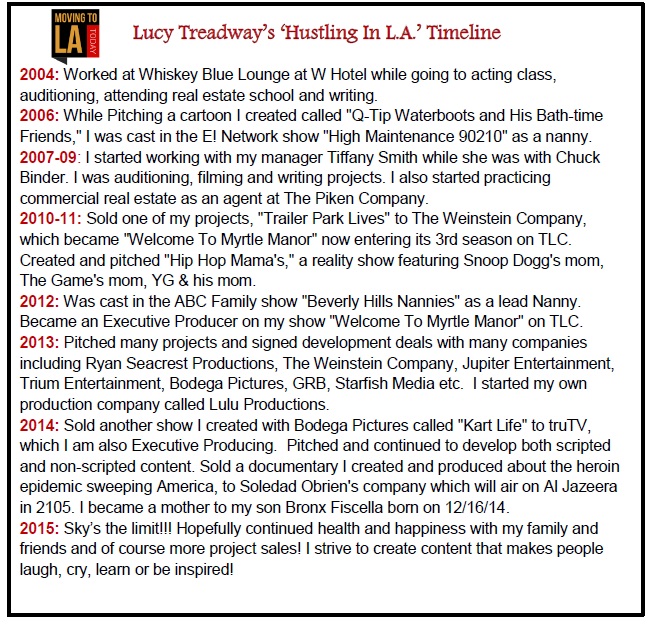 With all of this experience under her belt, Lucy still has time to share advice with aspiring producers.
Lucy's Advice For Aspiring Producers in Los Angeles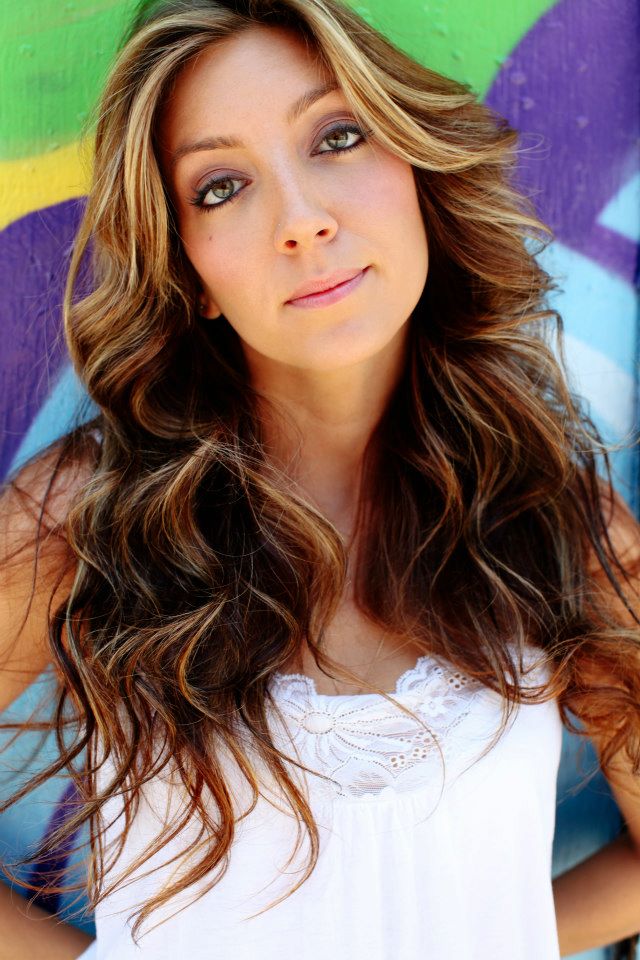 1, Always listen to your gut when it comes to creative matters of your content. Your initial gut instinct is usually right so don't let others sway you. Stay strong in your belief.
2. You will get lots of opinions from higher ups (agents at prestigious firms, famous friends, successful producers, etc). Again, do not change all of your material based off of their OPINIONS. You will soon learn they all have different opinions and honestly none of them really know. They may try to bully you by making you think they know what the networks want (and sometimes they might), BUT I have found that networks themselves don't always know what they want (and will actually say quite the opposite of what they end up buying) until they actually see it. So again… BELIEVE in your product and the reason you believe an audience will like it.
3. Research the demographic of your product. Know what the networks will say before they say it and have an answer.
4. Do not discount anyone in this industry. Forgive and move forward for you never know when you may want to work with that person again. Time heals and we are all on our own journey in this crazy town. You never know what someone else is experiencing or when they will be humbled and great to work with again. Be open but be smart.
5. GET ALL CONTRACTS IN WRITING, ESPECIALLY WITH FRIENDS. AND DO IT RIGHT AWAY FROM CONCEPTION OF THE PROJECT. OUTLINE NOT ONLY PERCENTAGES AND CREDITS BUT ALSO EXPECTATIONS FROM EACH PARTY WITH THE WORKLOAD.
6. Don't get discouraged or take no for an answer. You need to be pushy in this town, not annoying. Learn the difference. People are pitched 100's of projects each week so don't take it personally. BUT find a creative way to get them to look at your project or hit them up again a month later. Monthly check-ins are a MUST with all relationships. There are too many people in this town – don't fall through the cracks. But also don't be a stalker.
7. Don't rely on an agent, manager, or friend to make things happen for you. ALWAYS be in charge of your projects knowing exactly what's happening with them and what the feedback is.  They have multiple clients and projects so yours will not always get the attention it deserves. It's up to YOU to keep the checks and balances.
8. Don't let the industry get to you. In times of rejection or hard times, go back to the root of your passion, take a deep breath, forget the drama and just keep creating and marching on. This too shall pass and in the end you will still be standing with more projects and more relationships if you stay consistent with these patterns.
9. Surround yourself with a great team that supports you in every way. Do not let them stifle your creativity. The best manager/agent, etc will be with you for years to come. I wouldn't be where I am today without my manager, Tiffany Smith.