Since I am from Miami and currently live in Los Angeles, people often ask me to compare the two cities. I have lived in Los Angeles for about 3 years now and from my perspective there are many similarities yet quite shocking differences. Check out my comparisons of Miami and Los Angeles below.
Weather
Miami and Los Angeles are both known for their warm climates year round. During the heat of the summer, the difference can be felt because Miami's heat is humid, sticky and you will sweat just by walking out of the door while in Los Angeles, the heat is dry and consistent. During the hottest days in LA you will feel the direct burn of the sun because unlike Miami, which is usually threatening to pour down raining, Los Angeles very rarely has any clouds so you get a direct hit from the sun at all times which makes it feel hotter.
During the winter months, Miami is usually warm with a few days of 50 degree (which we consider freezing) weather from time to time but never more than 4 days of consecutive "freezing" temperatures. In Los Angeles, the freezing cold (40 degrees) can last for weeks at a time. It is usually a very mild and beautiful climate with amazing clear blue skies and very little rain. In Miami, it rains all the time with thunder and lightening and hurricanes. In Los Angeles, there are always rumors of earthquakes but I have yet to actually feel one.
The Environment/Views
Miami and Los Angeles are very similar in that they both have palm trees that line the streets but the palm trees in Los Angeles are much taller. Both cities have a grid style street system. The streets are numbered in Miami and Los Angeles but Los Angeles has streets with names as well. Los Angeles is dirtier and smells bad in the inner city. I heard a tourist say- "There goes that LA smell." Miami is completely flat with no hills and has access to the coast where you can drive 20 minutes from anywhere and be at the beach.
Los Angeles has beautiful mountain ranges and views of the Hollywood sign from various areas makes you feel rich even when you are not. Despite what you see on TV, Miami is not all South Beach and murders. In fact, Miami is more suburban that you would think, even in the areas that are considered low-income.
Beaches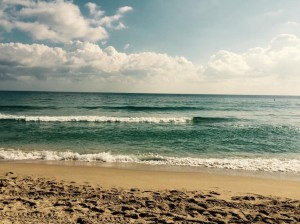 Miami Beach
Miami's beaches are more beautiful than Los Angeles beaches. The water is clear and warm and inviting. Los Angeles beaches are loooong, meaning you have to take a trek through the sand forever just to get by the shoreline and when you get there you won't jump right into the water because it is freezing cold.
Miami's beaches are beautiful but there isn't as much to do as there are in Los Angeles beaches. Each beach in Los Angeles has its own personality and visual offerings. Venice for example is the home to the bohemian artist and creative types and Santa Monica attracts tourists and body builders.
Population
Los Angeles County has 81 cities in it and a total of 10 million people making it the 2nd largest city in the country. Miami-Dade County has 34 incorporated cities and just over 2.5 million residents.
Miami's culture is heavily influenced by the Caribbean countries. The county has a distinct Latin flavor as Cubans, Puerto Ricans, Dominicans and Haitians lend their flare. You must speak Spanish in Miami, or at least know a little bit or you will feel out of place.
In Los Angeles there are more immigrants of Hispanic descent than any other race, accounting for more than half of the population. You'll find that the city is heavily influenced by the Mexican culture. The Asian population is the next biggest population. Thai food and Korean food is highly popular as well. There are very strong Jewish and Armenian communities in Los Angeles, mostly among business owners. Blacks make up around 10% of the total population in Los Angeles.
People's Attitudes
People are people everywhere you go, but it seems to me that people in Los Angeles are overtly friendlier yet they are not sincere. It is not uncommon to meet someone new, exchange contact information and never hear from them again. People in Los Angeles are big on being polite which often means saying the nice thing even if they don't mean it. It is rare to find someone who honors their word here.
Miami is quite the opposite in that no one is friendly at all. No one will smile at you while walking down the street. No one will offer to help you do anything. In Los Angeles, people will attempt to be your friend so that they can try to get you to follow them and help them achieve their goals. In Miami, they don't want you to come near them at all because- fuck you. People in Miami are more direct about their feelings and people in Los Angeles consistently operate under a pretense.
Women I know who have moved to Miami from New York say that people in Miami are dumb. People I know who have lived in both cities usually hate both cities equally.
People who move to Los Angeles from other cities are generally the best of the best of the best. Once they get here they realize that they are among their equals and either become followers, try to forge their own empires or go home disappointed that is was not as easy as they thought. People who live here long-term, do so because they have created a way to become a part of this community and feel that they have something to offer Los Angeles. The others don't last long. 
Racism/Segregation/Discrimination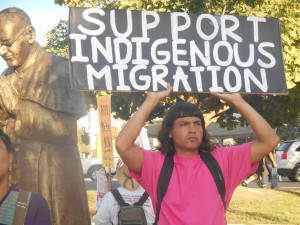 Protestor seeking aid for immigrants in Los Angeles.
Both cities have distinct cultures who are adamant about preserving their traditions. Most of these communities based on ethnicity are tight-knit yet in Miami the different cultures mingle more than in Los Angeles. Los Angeles is largely segregated, not just by race but by recreational interests as well.
Being a Black woman in Los Angeles has its disadvantages because of the attitude towards Blacks in this country and the fact that there are so few Blacks in Los Angeles period. Because of this, I experience racial discrimination on a regular basis, so much so that I am used to it and accept it as part of the culture. In Miami I felt like a person. In Los Angeles I feel like a BLACK person. Korean shops close their doors in my face in the middle of the afternoon. Guatemalen waitresses pretend that I am invisible when I enter their doors. Street vendors charge me more because I do not speak the language. Workers at various venues seat me at the back when there are seats available in the front.
Job Opportunities
I have only worked one job while I have lived in Los Angeles but every person that I know of who wants to work has found employment here. I have been able to create my own stream of income here and I know of others who have done the same through creative means.
In Miami, it appears that most people complain of not finding employment. When I was there it was difficult for me as well. This may be a reflection on the type of people I have been in company with.
For the most part the people in Miami seem to be looking for job opportunities whereas I find that people I encounter in Los Angeles, create their own.
Cost of Living/Rent/Housing
The cost of living in Los Angeles is extremely high. For $1750 you can rent a studio in Downtown LA and for the same price in Miami you will have a 4 bedroom home.
Drug Scene
Marijuana is legal in Los Angeles, for medical purposes. It is not uncommon to see people smoking on the street. Marijuana made of wax is the latest new drug I have heard about but most people do cocaine casually and meth.
In Miami Marijuana is not yet legal so it is the drug of choice, sometimes laced with cocaine.
Things to Do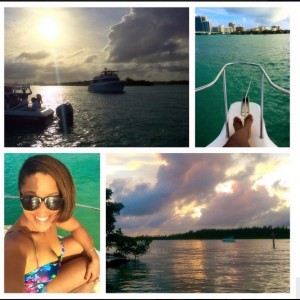 Lakisha Lee boating in Miami.
Miami is a very segmented city with pockets of communities based by ethnicity. There are some activities related to culture in Miami but it is heavily overshadowed by the scope of things to do in Los Angeles.
If you want to have fun socially in Miami you will have to put in effort to form your own social groups and plan your own activities. There is rarely a 'scene' to belong to outside of entertainment and the arts so you must plan your own events and meet-ups.
Los Angeles has pockets of communities based on common interests and these interests are wide and far reaching. If there is anything you have ever wanted to try or experience, Los Angeles has a dedicated community of people doing it and doing it well.
Los Angeles has decades worth of new activities to try and places to explore and people to be inspired by, influenced by and to help shape who you are. In Los Angeles you will NEVER run out of new adventures to have or people to sleep with.