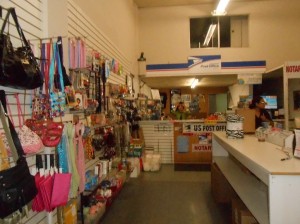 For your convenience you will find that there are Mom & Pop post offices set up around town. Although you will be shocked at first, you will later come to think of it as an amazingly enterprising way for them to earn money since half of the store is a post office and the other half is a convenience store, grocery store or even a dollar store.
Before you become too impressed by this unique business model, we caution you not to place your faith in these Mom & Pop postal services.
The first time I sent  a package through one a few days later I received a call from my credit card stating that my account had been charged multiple times by the vendor without authorization.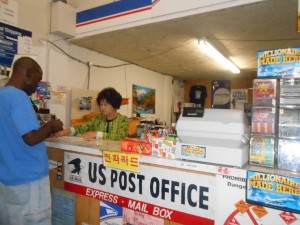 The second time I tried sending mail through a DIFFERENT Mom & Pop post office and it took a full 2 weeks for the letters to arrive. I sent the package even though I was warned by neighbors not to use the Mom & Pop postal service. I was being lazy and didn't want to walk an extra few blocks to the official post office since I was only sending holiday greeting cards.
I can not tell you what happened the 3rd time because I am not a fool. I will never use one of those again. You should not either.