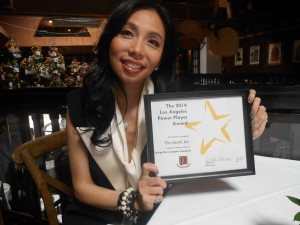 Elizabeth An, Owner- The Crustacean Beverly Hills
Elizabeth An may look like a 20-something party girl who just stepped off the runway but she's secretly a beast in business. Fueled by an insatiable passion for creative and business growth, behind her sweet, innocent smile is a woman determined to grow her empire.
Consider the fact that Elizabeth is the steward of a family-owned restaurant that she has groomed to become one of the staples of Beverly Hills. When she first moved to Los Angeles 20 years ago she was a single Mom who had a successful restaurant concept in San Francisco but she had no clue if  Los Angeles would welcome her and her business. Her desire to expand her brand led her to take the risk and her family followed hesitantly. The reward for her bravery overshadowed the risk she took.
Her restaurant, The Crustacean Beverly Hills, is now beloved by every race and every face for its delicious Vietnamese food and upscale yet warm environment. Stepping into The Crustacean Beverly Hills is like visiting Utopia. There is no particular 'crowd'. There is no set demographic. Every person who dares to walk through the doors of The Crustacean Beverly Hills will want to come back for the food, the service and the ambiance.
Elizabeth credits the community of transplants in Los Angeles as the reason why she has been successful in business here. "Because of the welcoming nature and diversity of Los Angeles, our family and our culinary traditions were accepted with open arms by the community, and Crustacean was an instant hit, and I am forever grateful for that," Elizabeth shares.
When she happens to take a break from leading her business, Elizabeth and her family enjoys hunting for that perfect antique piece on La Brea or Beverly Blvd — famous for all its eclectic antique shops. You might also find them strolling down 3rd Street searching for that new up-and-coming designer then heading to Los Feliz or Silverlake to shop vintage and finally ending in Little Tokyo to discover a new ramen house before heading back home for some Netflix and caramel-salted ice cream from her favorite gourmet ice cream salon, Caramelo.
"Whether you're considering a move to Los Angeles for business or just a change of scenery, just do it," Elizabeth urges. "Moving to Los Angeles has been the such a positive adventure for me and I am so happy that I did so.  There are all walks of life here so it is not hard to find your niche, socially or professionally and it is not hard to make life-long friends."