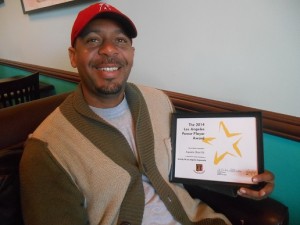 Aqeela Sherrills – Community Activist
Step inside the 3 Worlds Café in South Central Los Angeles and you might find Aqeela Sherrills pecking away at his laptop, a sly grin on his face, as he sips on a latte he made for himself. This warm-hearted barista is also a co-owner of the 3 Worlds Café located at 3310 Central Avenue in Los Angeles.
Aqeela finishes typing out an email, closes his laptop and joins me for a brief chat about life in Los Angeles. It is a topic he has discussed at length, having spent his entire life here, growing up in Watts. During his youth he joined his peers, participating in neighborhood hijinks, fighting, doing what he had to do to belong.
Somewhere along the line his vision became blurred. The appeal of the streets faded and deep within he yearned for something more. He side stepped the neighborhood rite of passage of jail time and instead opted to go to college. He funneled his anger over watching friends and family members fall victim to street violence into more academic and leadership pursuits, realizing that his skills as a speaker would be useful in his community.
He recognized the root of the anger that provoked so many deaths stemmed from a sense of hopelessness and lack of direction. At the age of 19, he took action steps working alongside football player Jim Brown while forming the Amer-I-Can Program whose aim was to heal gang violence around the country. He traveled to Las Vegas, Cleveland, New York, Portland and Phoenix among many other cities, negotiating with gang members, urging them to call a peace treaty before returning to his hometown of Watts to initiate a similar act.
In 1992, he formed a group of peace street warriors and together they facilitated a historic truce between rival gangs, the Bloods and the Crips. This monumental achievement was the catalyst for Aqeela's life-long community activist career. Aqeela and his brothers created the Community Self-Determination Institute in 1999 to tackle the overwhelming personal and social issues that underlie crime, drugs, and violence.
"We'll never get rid of gangs," he observes, "but we can instill morals and values in that structure and shift their purpose."
Because of these monumental pursuits Aqeela is well-known in the South Central community as a peacemaker and he enjoys creating peace for himself with regular trips to the Korean spa and an annual pilgrimage to Brazil.
When he's home perfecting his various community-related projects he says working at the 3 Worlds Café allows him to clear his mind of all of the mental clutter that being an innovator can evoke.
For those who are thinking about moving to Los Angeles, Aqeela has a wealth of practical advice.
"Live beneath your means," he encourages. "Things are really expensive in LA so you have to make sure that you don't move into a place you cannot afford. And- don't be deceived by manicured lawns and big pretty houses, LA is still a dangerous place to live; remain vigilant."