While many of the 58 counties in the state of California sadly proclaim unemployment rates of 10% or higher, Los Angeles county has missed that mark, coming in with a 9% unemployment rate in January 2014 according to the US Bureau of Labor and Statistics. Counties like Imperial and Colusa scored significantly higher with 22% and 25.9% unemployment respectively, while San Mateo and Marin County scored 4.1% and 4.7%. More than 30 counties in California have a higher unemployment rate than Los Angeles.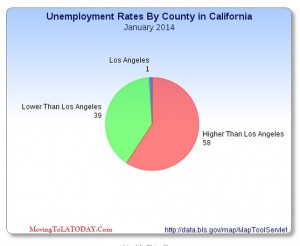 From these figures we can ascertain that Los Angeles residents are a little more creative about finding work and are open to doing most anything. In fact, the people in Los Angeles believe that any job is a good job. There is no judgment here over how technical or menial your job is. If you have a job in Los Angeles, you are doing wonderfully in life and you are not ashamed of what you do for a living.
From the proud bus boys in the restaurant industry to the service workers who help keep our streets clean and safe, simply being a part of the workforce in Los Angeles is an achievement in its own and the people of Los Angeles do not take it for granted.