Do you have an Exceptional Mind? Would you like to attend a state of the art digital arts school nestled comfortably in Sherman Oaks, California just minutes away from Hollywood? At Exceptional Minds students learn the skills necessary to create animated projects, visual effects and computer graphics.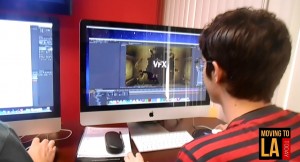 Student at Exceptional Minds takes a course on film animation.
Headed by veterans of the entertainment industry with decades of experience helping to create the movies that define our lives, students who attend Exceptional Minds receive special treatment in more ways than one.
Exceptional Minds is a non-profit vocational school that trains young adults with autism for careers in digital film and film production. Because of the Hollywood connected staff and board members, students who complete the program have a once in a lifetime chance of being strategically connected to Hollywood's premier movie studios. With only one graduating class to boast about, Exceptional Minds has students who have received film credits for exciting projects like American Hustle and Dawn of the Planet of the Apes.
Yudi Bennett, the Director of Operations for Exceptional Minds shares why this program is important for young adults with autism considering the amount of care and concern kids with autism experience throughout grade school and the complete lack of resources available after graduation.
"It's a very serious situation," Bennett shares. "You've got 18 year olds who have no place to go. They have no job training and no place to go. Our program addresses that need."
Bennett believes programs like Exceptional Minds, which she says is the first of its kind in the country, actually redirects young adults with autism, ultimately changing the course of their lives.
24-year-old Kevin Titcher can attest to the fact that Exceptional Minds and their help with connecting him with a production job after graduation has changed the course of his life. Titcher was diagnosed with autism when he was 14 years old. After completing high school, he had no special skills so he began working at a grocery store before his Mom told him about the program at Exceptional Minds. Because of his education, Kevin has raised the bar for his life as an autistic young man and was able to resign from what he assumed would be a career working in the grocery store.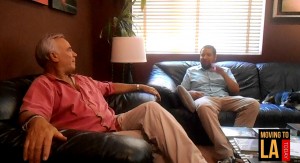 Sam Nicholson, CEO of Star Gate Studios shares a moment with Kevin Titcher, a new hire from Exceptional Minds, a vocational program for young adults with autism.
As a new staff member at Star Gate Studios, Kevin can enjoy being a part of a production team that is currently working on hit shows like Walking Dead, Mad Men & Greys Anatomy. Even though Kevin seems to be the lucky one, Star Gate Studios Founder Sam Nicholson believes that his studio benefits from Kevin's presence as well.
"I think we all have some level of autism," Nicholson says. "One of the great things about having Kevin here is…It's really nice to see the level of enthusiasm that Kevin has for his work. It's contagious."