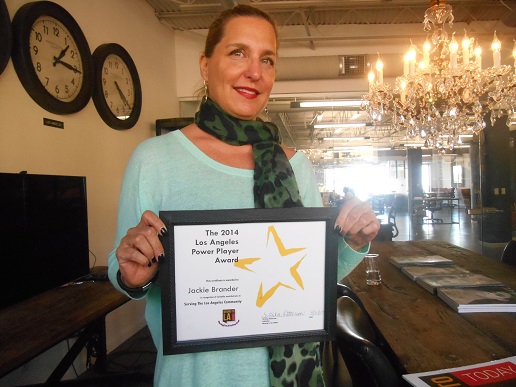 Jackie Brander, the President of Quintessentially
Jackie Brander knows Los Angeles. And when we say she knows Los Angeles, we mean she knows Los Angeles, intimately. As the former owner of the high end retail hot spot, Fred Segal, Jackie was thrown into the spotlight as she catered to and courted the most illuminated names in Hollywood and beyond. These days she has transitioned to a position that she says must have been designed just for her; President of the West Coast division of Quintessentially, a lifestyle management and concierge company.
Jackie makes magic happen, and it's all a part of her job description. "We take care of the lives of tastemakers, CEO's, Producers, Directors, Celebrities and Influencers," she says. "On any given day we get requests from members from all over the world and we find them what they will love, get them access and let them enjoy. This is what we are tasked to do."
Any request, any accommodation, any desire that you can possibly have for your life or lifestyle can be flawlessly carried out by this genie on Sunset Boulevard. Her uncanny ability to meet the insatiable needs of people who matter combined with her warm and vibrant spirit makes her a person that everyone in Los Angeles wants to know.
For those whose dream of making Los Angeles their home, Jackie assures you that this is truly the one of the most phenomenal cities in the world. "We have the best of the best," Jackie gushes. "From Rodeo Drive, to Sunset Plaza to Malibu. Fast cars and killer wardrobes! Celebrity spottings and camera crews.  LA also has stability. We have core places that are always there and give us the comforts of home.  The drive from Sunset Blvd to PCH heading to Malibu for lunch at Nobu to hiking Runyon Canyon with all the cool kids!  Brunch at Shutters in Santa Monica and the same night going downtown to Staples for dinner at Katsuya and then off to see The Lakers or The Clippers. We have the strength of every creative business here. Movies, TV, Fashion, Art, Nightlife, Restaurants. It's the hub of creativity and we produce the best of the best from here!"
With so many options for leisure activities at her fingertips, Jackie says creating a perfect day for herself involves one of her greatest joys in life: doing the Santa Monica stairs. "This is not only one of the greatest workouts ever, but it's got such beautiful athletic people there that you are instantly inspired," Jackie shares. "Once that is out of the way the reward is an awesome brunch at either The Ivy or Soho House or the Four Seasons in Beverly Hills. Just depends on the food mood which is earned from conquering the stairs. This is the perfect Sunday."