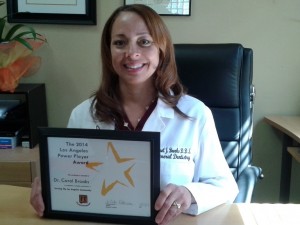 Dr. Carol Brooks- Inglewood Dentist
Dr. Carol Brooks- Inglewood Dentistr. Carol Brooks graduated from Howard University's School of Dentistry and opened a practice in Inglewood shortly thereafter. She says she has enjoyed watching the city of Inglewood grow over the course of more than 2 decades as she grew her private practice located at 3015 W. 85th Street in Inglewood, earning her a reputation as a staple in the Inglewood community.
Her office is staffed by a group of warm, caring women who make it a point to create a welcoming environment for each patient. With state of the art equipment, she has the equipment and capability to create and produce a crown on the premises within hours for patients who are in need of emergency services.
Her services don't end once the dental work is done.  "As a dentist I educate people not only about lifestyle choices that impact their dental health, but also their health in general," Carol says.
Carol is an avid community mentor and volunteer working with young men and women who need an extra push in their career goals as well as offering her services to the homeless and transient community.
Carol advises people who move to L.A. to build off of familiar relationships that they have formed within their own communities once they arrive in Los Angeles. She encourages new L.A. transplants to join groups and social organizations that are similar to the ones they belong to at home which will ease their transition and allow them to enjoy Los Angeles than starting from a stark and cold beginning.