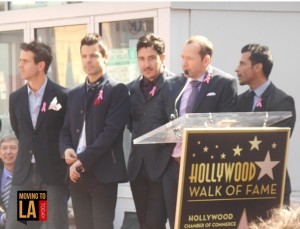 The New Kids on the Block being honored by Hollywood in 2014. Joey, Jordan, Jon, Donnie and Danny.
Yesterday the most awesome group EVER received their star on the Hollywood Walk of Fame and MTLA was in the midst of the action!
The New Kids On The Block, the boy band that inspired all boy bands, were honored on the Hollywood Walk of Fame in front of thousands of fans. The fans lined the streets, camping out from the evening before just to get a good viewing spot for the ceremony.
I arrived by 6:30 am and was number 134 in line. This was the first time I have ever seen the New Kids in person even though I have loved them since I was 10.
Hanging out with New Kids On The Block super fans was amazing in itself. I love them for their music but more devoted Blockheads love them for their souls. The women I met were die hard fans, going from event to event to see them.
One woman said her daughter asked her, "But you love Daddy more than you love Donnie don't you, Mommy?"
One woman who drove 6 hours to attend the ceremony was there with her son who looked to be about 10 years old. He turned to his Mom and said, "Mom, you're a groupie,"
She quickly replied, "Of course I am, that's why I'm here. We're all groupies."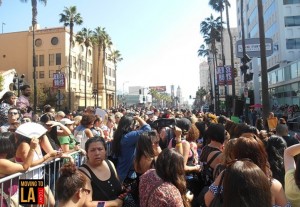 Thousands line up to celebrate The New Kids On The Block as they receive their star on the Hollywood Walk of Fame.
During the ceremony the sun could not have shone any brighter as the 5 men we have all been yearning for took the stage in all their glory. Arsenio Hall was the first to pay tribute to them, reminding us all why we are Blockheads.
"Their music makes us happy," he said simply.
He's so right. Listening to the New Kids On The Block just makes you feel like everything is alright with the world.
When it came time for the New Kids to speak, Donnie took the podium and delivered heartfelt gratitude to their families, Maurice Starr, and of course, the fans. After the ceremony, Donnie took the time to come greet fans and take pictures.
Being around so many fans who love the New Kids too puts you at ease as you can finally share the feelings you have for them inside without judgment because everybody there feels the same way.
Laughter, high fives, gorgeous smiles and high energy from being inside a living dream all combined to create one fantastic experience in Hollywood.