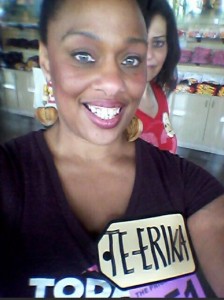 Te-Erika Patterson at The Price Is Right in Los Angeles.
I went to my very first taping of The Price Is Right in Los Angeles! I spent more than 8 hours at CBS Studios but the experience was totally worth it! If you are planning to attend a taping of The Price Is Right, these tips will help you to enjoy the experience more and you just might hear- Come On Down!
Book A Priority Ticket
When you book your ticket through On Camera Audiences book as far ahead as you can. This is super important due to the amount of people who show up for the show. I arrived at 6:15 a.m. even though my line voucher ticket said the show will begin at 8:30 a.m. I was the 15th person in line but that did not matter because I only had a line voucher and not a PRIORITY ticket.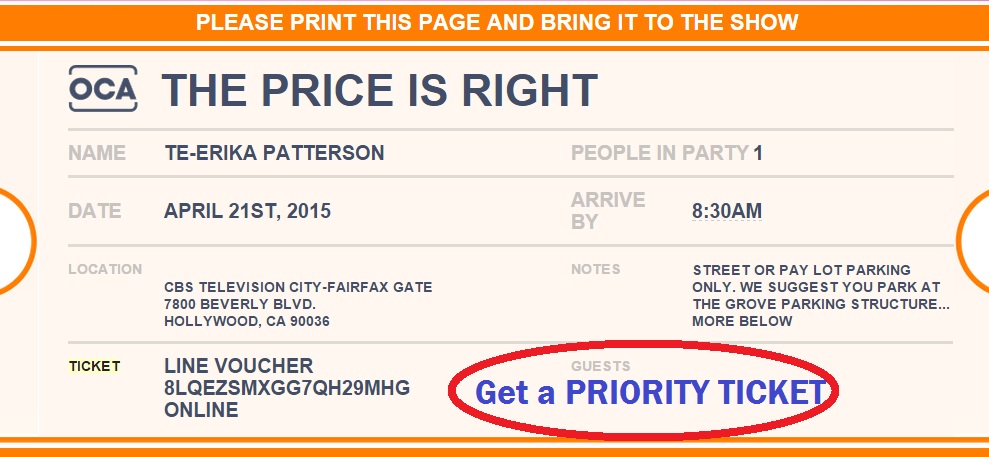 At about 8 a.m. the staff goes down the line allowing everyone with a PRIORITY ticket to go inside first. Every person is given a number and you will have to stay in that place for the duration of the wait time and you will also be seated according to that number. After the staff goes down the line, even the people who came late with PRIORITY tickets are allowed in before everyone with a simple line voucher. Then the staff allows the first people with line vouchers to go in. They only have 300 seats to fill.
I was one of the few who were allowed in with a line voucher. Maybe 30 people behind me got in and everyone else was given a Turn Away voucher to come back to a future show. This Turn Away ticket is the same as a PRIORITY ticket.
Get to Know Others in Line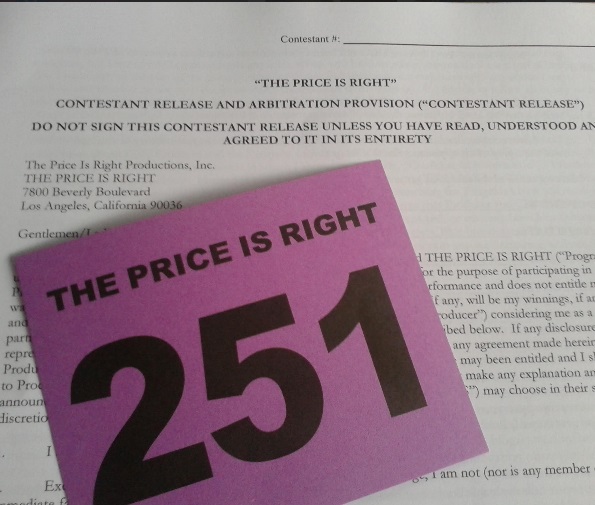 Once we were allowed inside close to 9 a.m. we stand in another long line with the rest of the lucky audience members. We fill out the consent forms, we take pictures together, chat it up and wait for our turn to get our FAMOUS Price Is Right Name Tags. You will have no choice but to get to know the other people in line because you will be standing with them for at least 5 hours. These are the same people who will be cheering for you if your name is called to COME ON DOWN so be nice to everyone and try to guess who will make it onstage, because there will be at least 8 of you who do.
Wear a Custom Shirt That Shares Why You Are There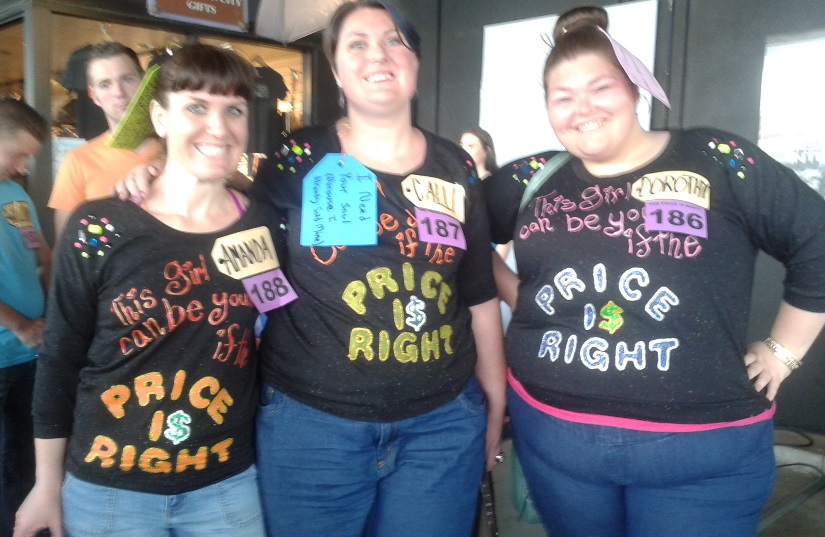 People with custom shirts make it on Contestants Row more often than those who do not take the time to make them. Try not to come alone. No one who came alone made it to the Contestants Row. Bring friends and make T-shirts for your best chance at getting a spot on the show!
Bring Lots of Money
The tickets are free but the wait is long and you will get hungry. They do sell food to the audience members but the food is super expensive. A simple personal pan pizza is $15. A bottle of Coke is $4. Bring your own snacks or you will pay for your hunger pains.
Ham It Up In Front of the Camera
Once you receive your Price Is Right Name Tag you will feel as though you have made it. But you haven't made it- not yet. You have two more check points to wait through. At this point they will take a single photo of you that they will send to producers who are watching you as you interact with others in line.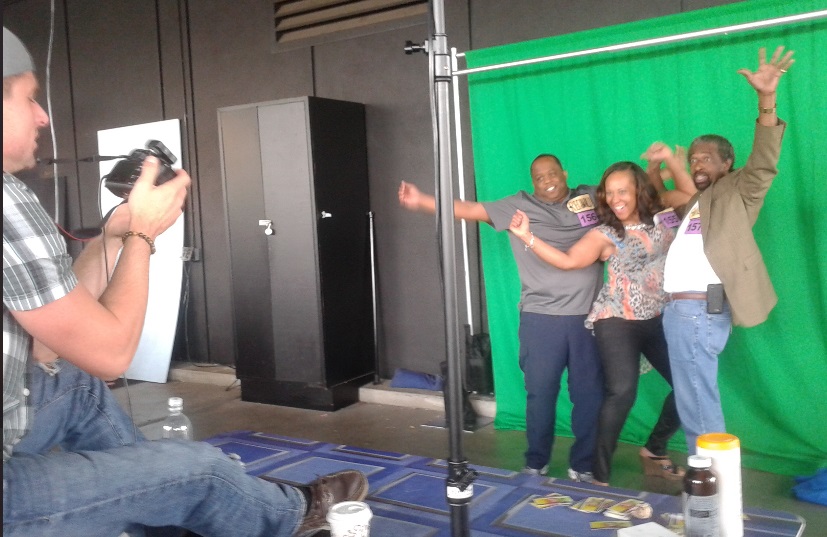 When they take your photo in front of the green screen they will ask you to act like you just won a new car. Do it! Do it BIG! The people who had the most hilarious photos are the ones I saw make it to contestant row. They will later offer you these souvenir photos for $20.
Prepare For Your Interview
After the first checkpoint you will be led to a second waiting area. There are benches here so you can rest your feet. Nothing much happens here as you wait your turn to be interviewed. Yes, you will be interviewed by a production staff member. He will ask about 20 of you to stand in a line and he will ask you one question each. The questions are simple: Where are you from? What do you do for a living? What is your favorite game on the show? Answer enthusiastically! There will be a woman taking notes as he asks you questions. Do not be fooled; just because she scribbles when your name is called does not mean that you will be called to Come On Down!
Use The Restroom
Yes, there are restrooms available so please go. Before you get to the 3rd checkpoint they will send you through a medal detector and ask you to check in your phone. At this point you are almost there and there are more benches to sit on for another hour or so. This time they have television screens showing clips from past shows that will get you so hyped while you wait!
Watch Where You Sit
You may have very little control over where you sit once you are ushered into the studio because they seat you according to the number you were assigned when you arrived. I was one of the last people to be seated and I was seated on the far end of the studio next to the announcer.
I noticed that most of the people without custom shirts were seated in this section and we were not shown on camera during the show at all. Yes, when you watch the show you may THINK you are seeing the entire audience but there is a section that is rarely, if EVER shown on camera and that is where I was seated. Only once did someone from our section get called to Come on Down!
Have As Much Fun As You Can
The staff is so good at getting us hyped that we could barely hear the names of the people who were called to Come on Down! It is super loud and rowdy being in the audience. Because of this, a production assistant holds a cue card with the name of the person being called.  Each person who is called to the Contestants Row receives $300 cash just for participating too!
There is lots of great music, dancing and general excitement just being there! Watching others play your favorite games, spinning the wheel, seeing the models come out driving new cars, watching people you were JUST standing outside with for hours WIN NEW CARS and MONEY will make you want to scream with joy!
You will leave this experience feeling as though you just hit a major benchmark in life.
Enjoy The Price Is Right!