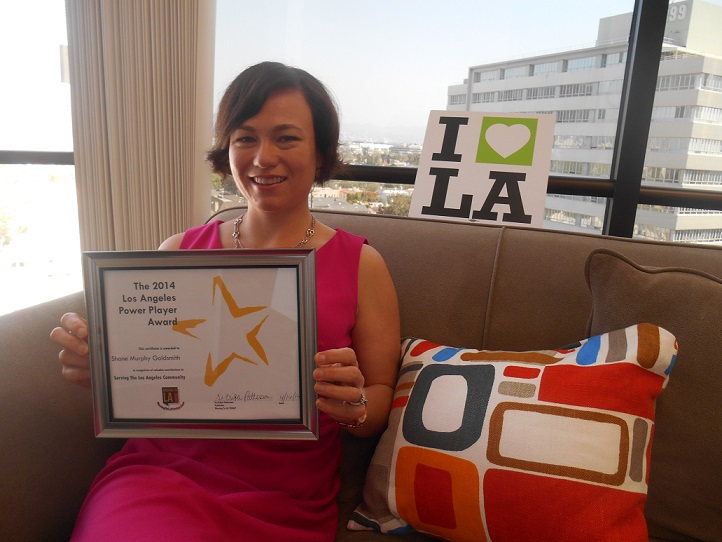 Shane Murphy Goldsmith, CEO of Liberty Hill.
Shane Murphy Goldsmith is the CEO of Liberty Hill, a foundation that offers a unique combination of grants, leadership training and support to organizations that incite social change. Liberty Hill is important to so many small foundations that have the vision to shape the Los Angeles community yet lack the resources to push their vision forward.
Although becoming CEO of a foundation that makes dreams come true wasn't initially on Shane's bucket list, she always had a heart for social change and worked in the field, managing a homeless shelter, while working on her Masters degree  in Public Policy and Administration. The company she now leads was founded the year she was born. As Liberty Hill grew up, Shane spent most of her youth hanging out at Santa Monica Muscle Beach doing acrobatics, even in the winter. A Los Angeles native, Shane became a young community organizer working frequently in Watts and South L.A.
After experience in the nonprofit and government sector, her path crossed with Liberty Hill. She became a volunteer, eventually joining the Liberty Hill staff and then after much diligence, Shane stepped up to take the reigns of the company. In her new position she leads her  foundation forward by managing organization relations, securing funding and offering support to a variety of organizations with grace.
While Shane has had the opportunity to explore L.A. since birth, of all of the places she has visited she says her favorite place is City Hall.
"City Hall is where I met my wife and where we were married," Shane shares. "In fact, we were the first gay couple to get legally married in the city of LA! On those famous steps, I have carried legislation as a staff person for our now-mayor Eric Garcetti when he was a City Councilmember, and carried protest signs as a community activist. I have learned a lot about world on the steps of City Hall."
For those who hope to move to Los Angeles and make a home for themselves here, Shane offers a bit of sound advice.
"You're coming because of what you can get from L.A. so make sure you give back in equal parts and get involved," she says. "At LibertyHill.org you can find grassroots organizations in your neighborhoods or ones working on issues that are important to you. Then go out and explore all the nooks and crannies of LA."